Tuesday, March 22, 2011 at 8:00PM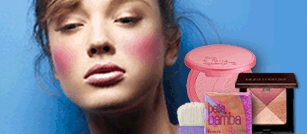 This trend makes me VERY happy! How long have I been saying that women don't wear enough blusher these days? Like they are scared of it or something. Blusher is one of my favorite products! And blush is a spring trend this year. Bright pink blusher! I'm loving it!
Now the picture above is from the runway. So we always have to interpret that to an every day look. This is what I came up with.

The blusher I used on my cheeks is from Sleek Cosmetics. The blusher is called Flushed. It is a really deep pink but it goes on bright. So a little goes a long way. But I think it really does give you that "flushed" look. Like I just ran up the stairs but in a pretty way. I also say go even brighter with Sleek's Pixie Pink blusher.
Keep the eye make up soft, shimmery and pastel like colors.
Fill in the eyebrows softly.
Check out
Sephora
for a fun bright blusher this season. Or check out
Sleek
for the blusher I used or other great blush colors.
Give this trend a try. Don't be scared of blush. Listen to Tristan. If you blend it well enough and concentrate the bulk of the color right on the apples of the cheeks you can't go wrong. I promise.
BRING BLUSHER BACK! HA HA! ;-)